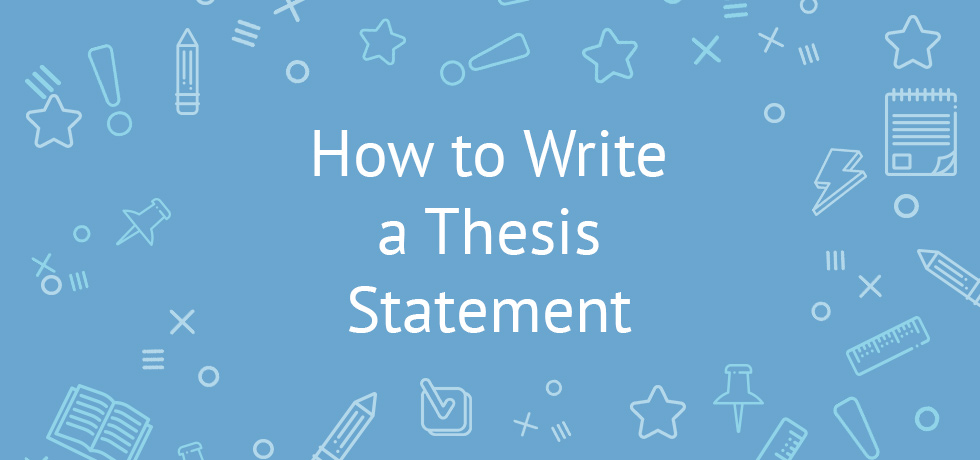 When giving students a task to write an essay, the teacher or professor will often mention that it is supposed to have a strong thesis statement. The very formulation may seem scary to some students, enough to stun them into procrastination. No doubt, if you have any questions regarding your essay, it is at all times best to address them to your teacher or professor. But, in case you are shy or it is otherwise complicated to reach your instructor, we have put together this article aimed at answering your possible questions about putting together a solid thesis statement.
THE DEFINITION OF THESIS STATEMENT
When writing an academic paper, it all revolves around the main message that you put in it. All the facts you give and all the arguments you make in your essay share the same purpose of supporting your main message. At the same time, this main message of yours is the axis around which you build the rest of your paper. This main message is officially referred to as the thesis statement of an essay.
Naturally, your thesis statement should be brief. Perfectly, it should reflect your entire essay condensed in just one sentence. If necessary, two sentences are also OK, but no more than that. Laconic nature is the essence of a good thesis statement. It should present the topic of your essay and your position in this regard, only this and nothing more.
Formulating a firm and straightforward thesis statement will aid both you and your reader. On the one hand, it informs your reader what your essay is about and prepares them to what they are about to read. On the other hand, it facilitates your concentration on the main focus of your essay, making it easier for the essay writer to know not to get distracted or carried away.
STRONG THESIS STATEMENT CHECKLIST
As you shape your thesis statement, it is a good idea to look at it from different angles and ask questions about whether it fully meet the requirements that you set and if the statement leaves room for the improvement. Here are some of the questions that it will be useful to ask yourself while formulating your essay's thesis statement, accompanied with tips to take into account:
1. Does my thesis statement look right in its proper place?
During your studies, you will be assigned different types of essays. They will vary in both form and content. However, they will most often have one thing in common: the essay structure. Any essay will consist of the introduction, the main body, and the conclusion.
As we have mentioned, the main goal of any essay's thesis statement is to inform the reader about the main message, the gist of your paper. Therefore, it is only logical to put the thesis statement in the introduction of your essay. When someone is reading the introduction, they do not know what exactly the essay will treat them with. So, keep it in mind and imagine your readership as people you are talking to, but who do not know what the talk will be about yet.
As you approach finalizing your essay, you are strongly recommended to restate your thesis statement in your essay's conclusion to summarize all the facts and arguments that you have given. Hence, the tips:
Make sure your thesis statement is in a visible place, so that the reader will not accidentally overlook it. Perfectly, put it at the end of your essay's introduction, and then the paraphrased version – close to the beginning of your conclusion.
Be straightforward. Avoid any possible ambiguity in the formulation of your thesis statement.
Stay laconic and avoid any unnecessary words, such as "This work is meant to support the idea that..."
2. Is my statement specific enough and not too general?
As you are guessing, you should be as clear as possible in your thesis statement. This also implies that, same as your essay as a whole, your thesis statement does not have to be too universal. An essay is too small of a work to cover a broad topic, so you are always recommended to stay specific when choosing a subject. As an utterly condensed version of your essay, your thesis statement should also subside to this guideline.
Inexperienced writers often try to make the thesis statement universal, so that it could appeal to a broader audience. The universal truth, however, is that by trying to appeal to everybody, you will appeal to nobody. When a thesis statement is too general, it also sounds generic and obvious. At best, it will not engage your reader, and at worst – they might even take it as an insult to their intelligence. Hence, your thesis statement must focus clearly and specifically on the topic of your essay.
Among other things, picking the right words is also helpful for this purpose. You should eliminate any chance of ambiguity. If necessary, check the meaning of the words with thesaurus. Moreover, remember that your reader will encounter your thesis statement in the introduction of your essay before moving on to the main body. Therefore, the thesis statement should be formulated in such a way that ensures smooth and logical transition to your essay's main body. This can only be achieved when you keep your thesis statement down to earth. Some tips in this regard:
If your thesis statement comprises two sentences, make sure that they clearly serve to convey the same message. Do not let your reader perceive these two sentences as two separate statements. For that, you are welcome to use subordinating conjunctions like "although", "since", etc.
If you can count more than one focus, this is not a good thesis statement, and it needs to be reworked.
While it is better to choose exact words over the abstract ones, it is also recommended to prefer general vocabulary rather than the technical one. Avoid using slang terms and jargonisms.
3. Does my thesis statement reveal my position regarding the topic or does it merely state the fact?
As we have discussed, the thesis statement of your essay is its condensed version, as well as its main message. Therefore, it becomes entirely pointless if it merely declares some facts or announces the topic or even if you take a particular side in the argument.
Your reader expects to be introduced to your position on the topic that you will expand upon further with the course of your essay, they are interested in what you have to say. Hence, you should make it clear what angle you take on the subject and what you want to say with your essay.
Some relevant tips:
It may be useful to show a little bit of subjectivity to show that you are writing this essay because you got this assignment, but because the topic actually matters to you.
Given that, your position on the topic should not be too subjective. It should matter not only to you.
While the thesis statement of your essay does have to be as clear as possible, you should not be tempted to oversimplify it. It should be evident to the reader that the issue that you are tackling is a complex one.
Remember that what you have to say matters. This is why you are writing this essay for others to read. So, you should also make it evident to your reader why exactly your take on the issue matters and is worthy of their attention and time.
4. Is my thesis statement authentic and genuine?
Your essay, including your thesis statement, is meant to be an original piece of work. You reader is not interested in reading something obvious or generic. It will only disappoint them, and, this way, your final grade will be satisfactory at best. This is not what you want.
That is not to say that all generic statements should be avoided by all means. They can be quite useful for starting off with your draft. However, with the course of your work, you must rework and refine your thesis statement up to the point when it is as genuine as it gets. Here are some tips on how to achieve it.
When re-reading your thesis statement, keep asking yourself "So what?" Perfectly, such question should not arise, but if such a result cannot be reached, you should at least have a convincing answer to such a question.
Another question to ask oneself is – Does my thesis statement make my essay worthy of the paper? Why should someone bother to read it? Once such question become self-explanatory, you can be sure that you have written a great thesis statement.
The importance of a solid and straightforward thesis statement is difficult to overestimate. Being the focal point of your essay, it is also a means to build a channel by which you reach out to your reader. Therefore, the reader's entire impression of your essay depends on how comprehensive your thesis statement is.
When planning the work on your essay, you should devote a sufficient amount of time to formulating your thesis statement. Mind, however, that before the final edit of your essay is ready, your thesis statement remains but a draft. Therefore, you are free to fix and adjust it, so that it suits the essay better and reflects the essence of your work more accurately.
Following our tips from this article should facilitate your work on a convincing thesis statement a great deal. Constantly asking yourself the questions that we have suggested, answering them, and analyzing the answers is crucial to the fruitful and effective work on putting out a solid thesis statement.
One final tip is to know when to stop with this perfection. As we all know, we are ourselves our own fiercest critic. Therefore, the work on your essay in general should be well-scheduled, and you should only devote to working on your thesis statement just as much time as you have planned in your schedule. Otherwise, you will never be happy with your essay's thesis statement, regardless of how genuine and well-thought out it may be, the process of perfection can last forever.